The Disneyland Holiday Season happens to be my absolute favorite time of year to visit the Disneyland Resort. I mean, what could be more magical than the happiest place on Earth during the holidays? Disneyland will be transforming into a winter wonderland, for their Disneyland Holiday 2022 season.
If you know anything about our family, it's that we set our bar for the holidays high because it's our absolute favorite time of year. I mean we brought out the decorations in our house before Disney even got around to decorating their park. That being said it's pretty hard to impress us, but the Disneyland Holiday festivities haven't failed us yet! Grab our Pro Tips below to save time & money + avoid the crowds this holiday season at Disneyland & Disney California Adventure Park.
TOP THINGS TO DO- DISNEYLAND HOLIDAY 2022
SLEEPING BEAUTY'S WINTER CASTLE
Take a walk down Main Street lined with garland and ornaments and arrive at Sleeping Beauty's Castle. There are shimmering icicles and more than 50,000 twinkling LED lights that make it feel so much like winter you might forget you are in sunny SoCal for a minute.
SNAP A PHOTO IN FRONT OF DISNEY HOLIDAY'S MOST ICONIC DECORATION – THE 60 FT. CHRISTMAS TREE
Did you know there are over 1,800 ornaments hung on it?
IT'S A SMALL WORLD HOLIDAY-
I think this is our family favorite during Christmas and you can probably catch us singing along to Jingle Bells and Deck the Halls throughout the boat ride. The facade is beautiful at night drawing in large crowds, so ride it during the day and just stop by after the sunset to catch the ride completely covered in lights. Keep in mind, there are FASTPASSES available for this ride just during the holidays.
HAUNTED MANSION HOLIDAY
This ride undergoes one of the biggest transformations of the year being inspired by Tim Burton's The Nightmare Before Christmas because there are two holidays colliding into one! It really is like riding a whole different ride than the rest of the year, but it's also more popular so plan accordingly for a little longer line.
MAKE SURE TO MEET UP WITH YOUR FAVORITE DISNEY CHARACTERS DRESSED IN HOLIDAY ATTIRE
Characters are dressed in their best holiday outfits making it extra fun to visit with them.
CATCH "A CHRISTMAS FANTASY" PARADE–
This parade includes all your normal favorites along with Santa Claus, marching tin soldiers, and dancing gingerbread cookies. The glittering floats glide along the streets to the tune of happy Christmas music. We don't normally stop to watch parades, but during the holidays this is a must do.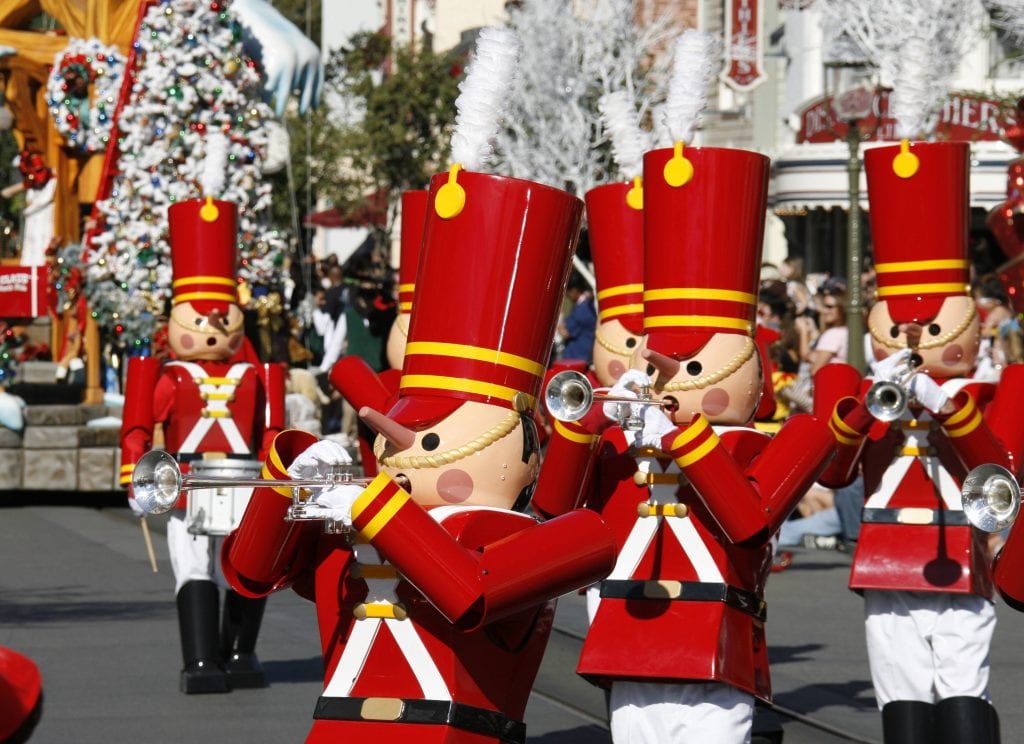 DON'T MISS "BELIEVE… IN HOLIDAY MAGIC" FIREWORKS SHOW-
We think this is a great way to end the day and get that last ounce of holiday magic squeezed in. Of course, the magical snowfall will create unforgettable memories.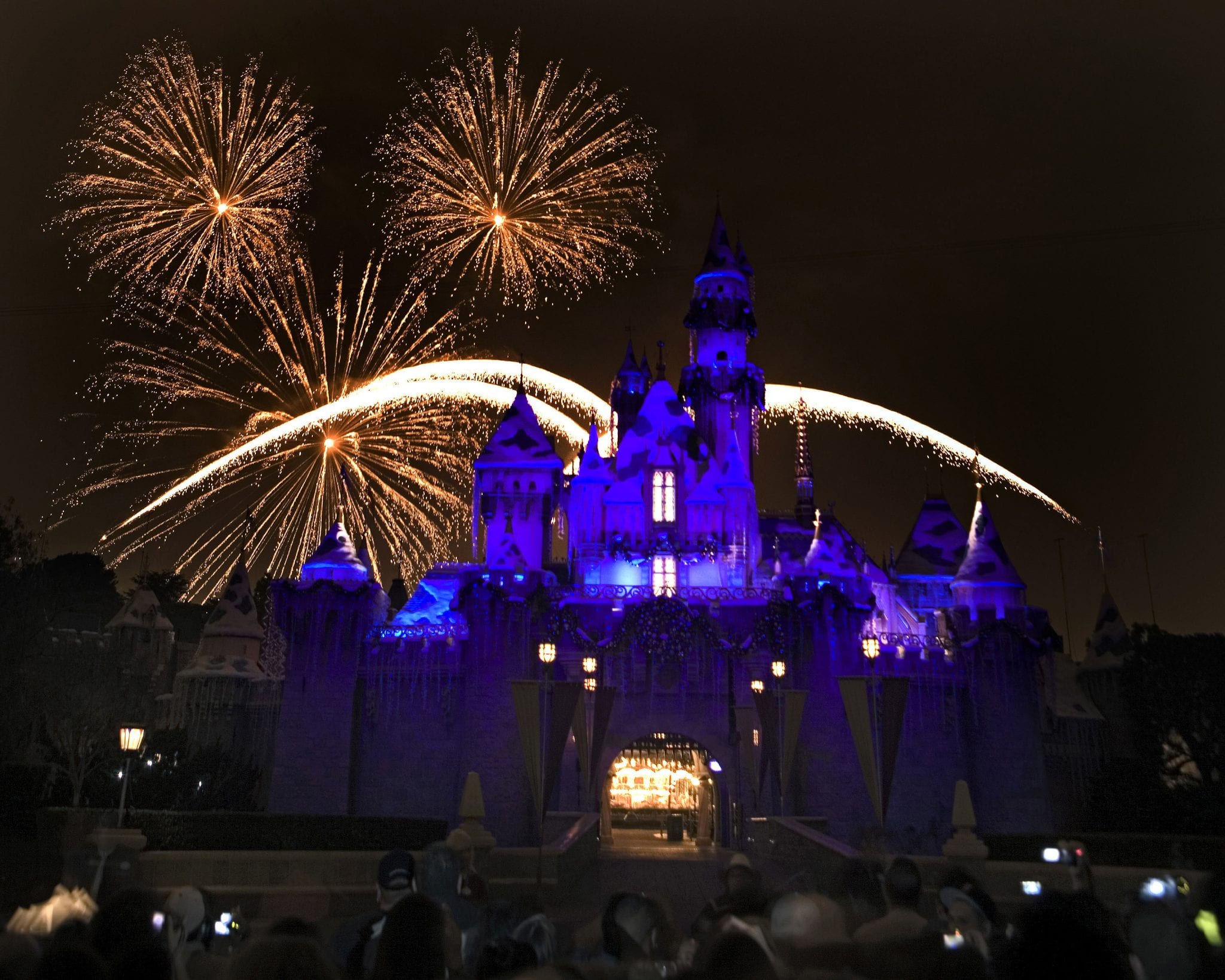 *Pro Tip- there is a very special "Holiday Time at Disneyland" Tour available during this festive time of year. You can experience a close-up look at the magical transformation the park undergoes, plus you receive reserved seating for "A Christmas Fantasy" Parade, delicious holiday-themed treats, a collectible pin & more!
*Note that the Jingle Cruise is docked for the Disneyland Holiday Season 2022. We are a bit bummed by this news as it was definitely a favorite for us.
CALIFORNIA ADVENTURE PARK HOLIDAY
FESTIVAL OF HOLIDAYS RETURNS- 
There's so much to do here. First stop, the Festive Food Marketplace because there's nothing better than yummy multicultural comfort foods, wine, and the Christmas spirit. Then find Viva Navidad, part of the festival celebrating the Latino holiday culture. It's really unique and our kids always enjoy getting to experience something new. The festival also has face painting, cookie decorating, sunset concerts, and a celebration of Three Kings Day.
We also love being able to educate our kids on all of the wonderful holiday celebrations that occur this time of year such as Christmas/ Navidad, Hannukah, Kwanza, and Three Kings Day. All of which are featured in the Festival of Holidays. Check out our Ultimate Guide to Disney's Festival of Holidays post here (includes a FULL menu of food & drink offerings).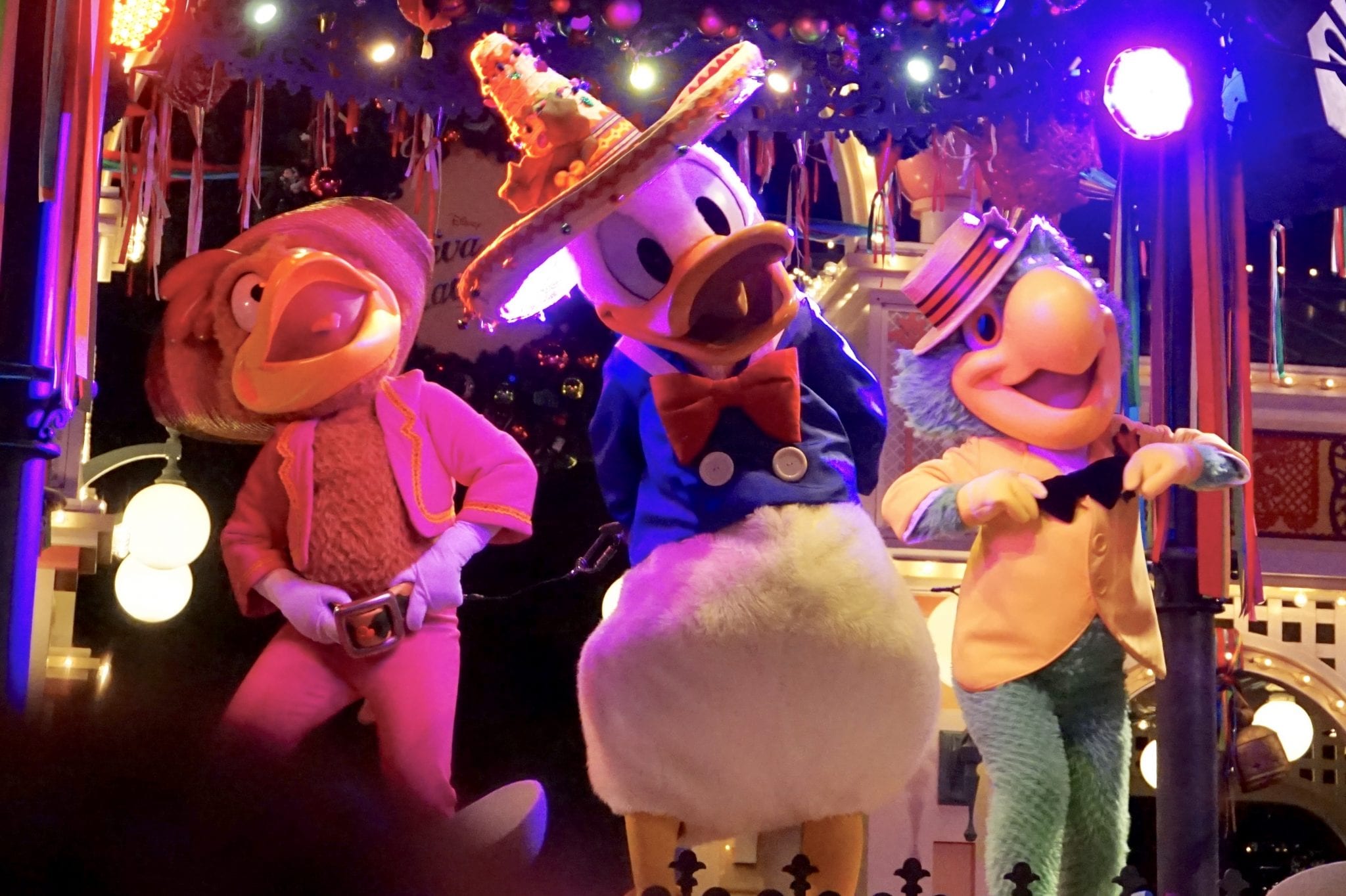 *Pro Tip- stop and make some crafts with the kids. You'll get a break from the crowds and long lines.
VISIT RADIATOR SPRINGS-
Cars Land will be decked out this holiday season with two of its major attractions transform into holiday-themed themed rides, Luigi's Joy to the Whirl and Mater's Jingle Jamboree.
Stroll Buena Vista Street- Basically the Main St equivalent for this park. During the Disneyland Holiday Season slow down and take in the beautiful holiday decor. It will take you back to holidays in the 1920s just like Walt first experienced them with the tree full of vintage ornaments and Christmas carolers.
Holiday Sunset Concerts- make sure to grab a show at Paradise Pier. I absolutely LOVED the Phat Cat Swingers (photo below)
Visit Santa Claus- Visit with the big man himself, Santa Claus at the Redwood Creek Challenge Trail. The whole trail is full of holiday-themed activities and mischievous elves.
DOWNTOWN DISNEY CHRISTMAS EVENTS
Downtown doesn't skip a beat in decorating for the holidays. It's a great place to walk around and grab dinner even if you aren't going to the park. Most of the restaurants are decked out and offer holiday menus.
Breakfast with Santa 
One of our favorite annual traditions is Breakfast with Santa at Catal Restaurant located in Downtown Disney. Here your family is treated to a DELICIOUS (not like a character breakfast buffet, this is quality dining) family-style breakfast, they have had a hot cocoa cart in the past, and the BEST part is Santa himself stops by for a long visit with the kids. It is our FAVORITE Santa experience!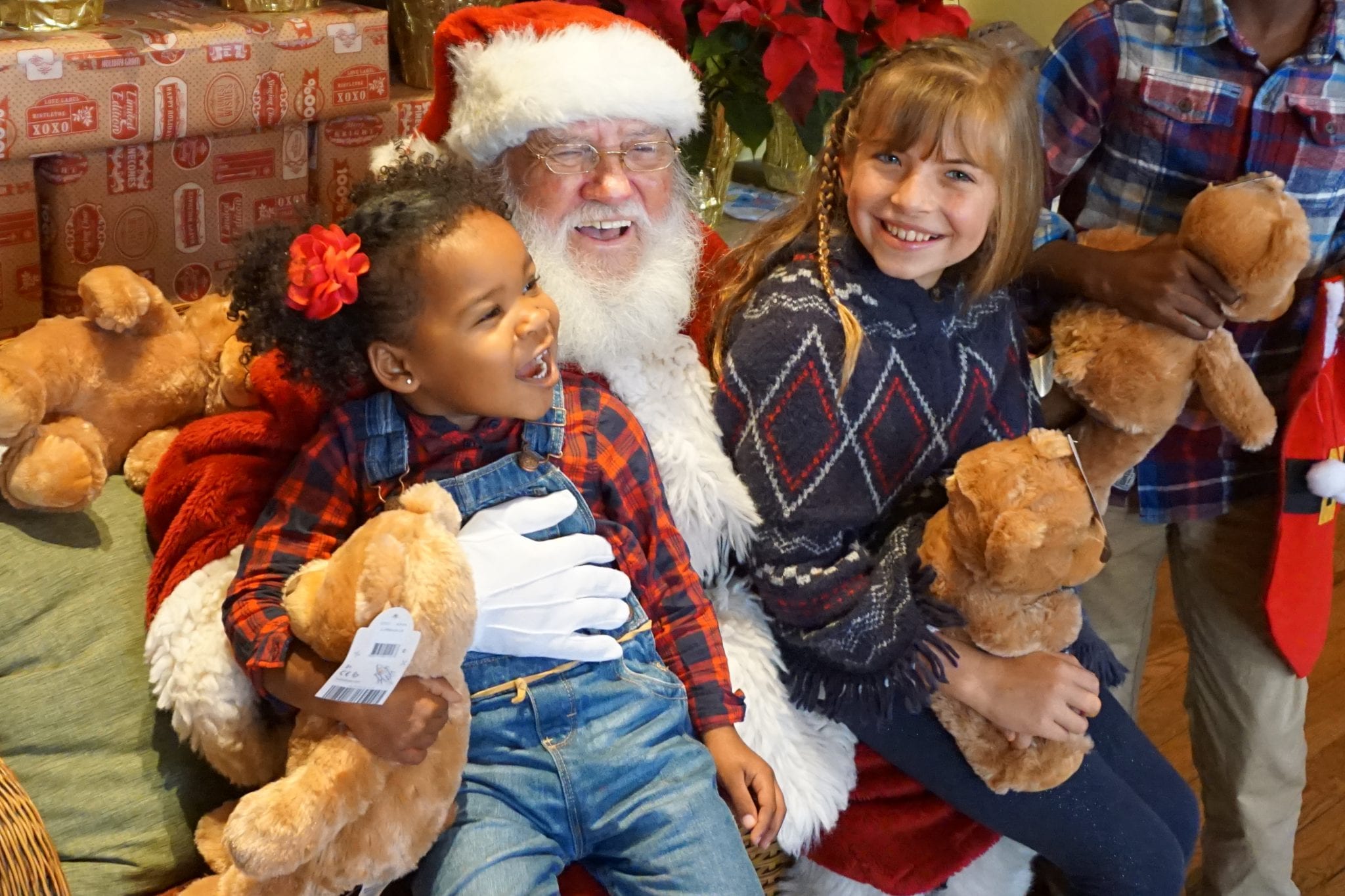 DISNEYLAND HOLIDAY TREATS TO EAT
If you didn't already know, one of the most magical things about Disney is that calories don't count. Okay well, maybe they do but they're well worth it especially when they're in a Disney Christmas treat. Here's how to satisfy your sweet tooth and your holiday cravings.
THE FAMOUS HANDMADE CANDY CANES!!
If you want this coveted Disneyland holiday treat you will need to arrive at least one hour prior to park opening to line up for your wristband. With only 135 of them made per day, they go quick! The Candy Canes are available at Candy Palace in Disneyland and Trolley Treats in California Adventure. Check out this video of how the Candy Cane's are made.
Candy Cane Beignets and Peppermint Mochas at the Mint Julep Bar in Disneyland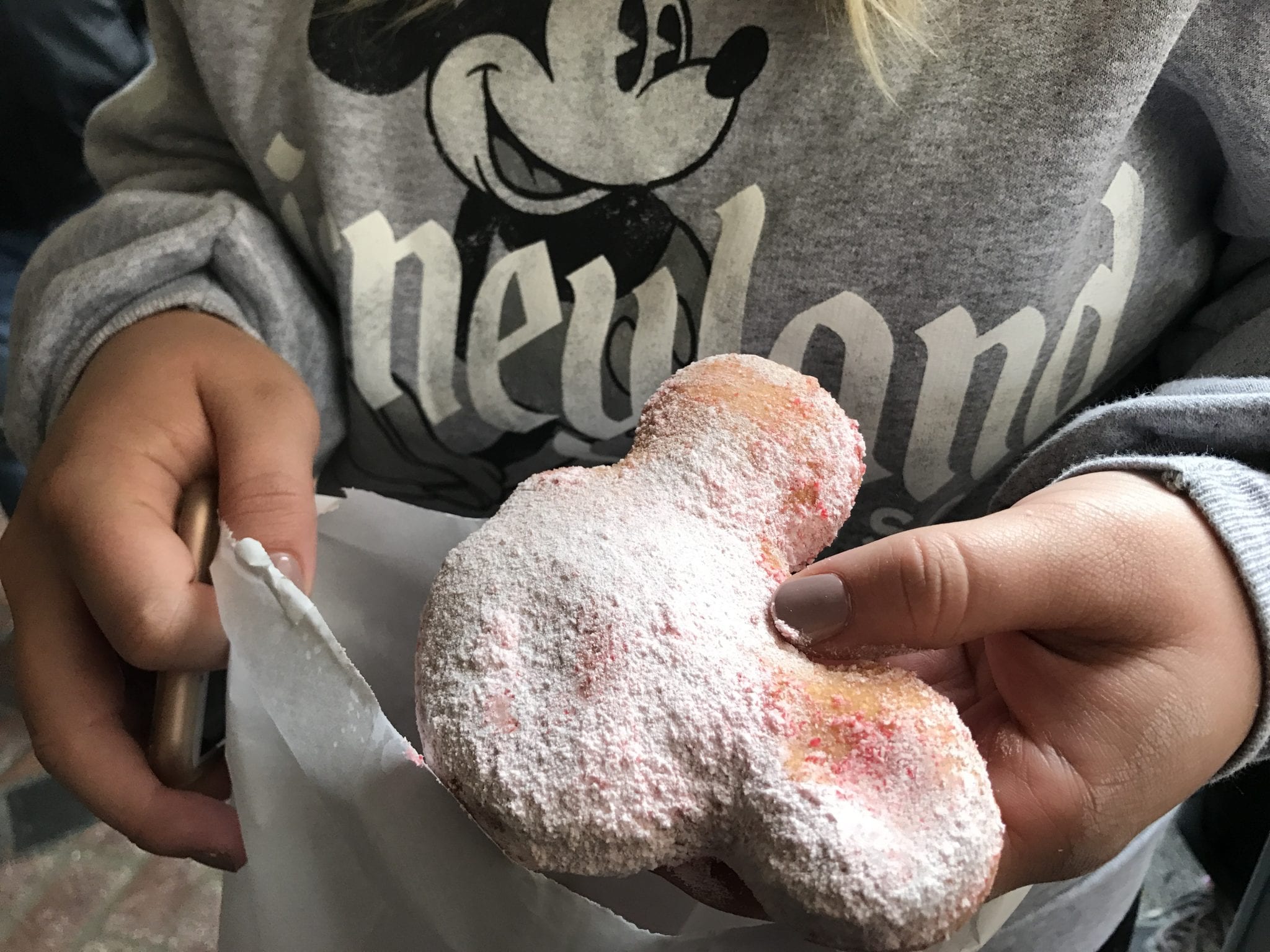 Peppermint Ice Cream in a dipped cone at the Gibson Girl Ice Cream Parlor on Main Street
Turkey Pot Pie Soup at the Pacific Wharf in California Adventure
Boudin Bread Cart Candy Cane and Holiday Tree shaped bread
Gingerbread Cookies next to the Gingerbread House in the Grand Californian
Literally everything at the Festive Foods Marketplace! This year the featured a NEW dish with Braised Lamb Cheeks with Mediterranean Cauliflower that is delicious!! Check out some of the foods I sampled from the Festival Foods Marketplace below.
DISNEYLAND HOLIDAY SURVIVAL TIPS
PICK THE RIGHT DATE TO VISIT-
Check Is it Packed to see which of the 60 days of Disney Christmas works best for you and your family. The week of Christmas is known to be the busiest of the year, but hey it's an experience. Also, make note of what days have extended hours so you can take advantage of those. We typically try to catch the park right around Thanksgiving and the first weeks of December, and like always if you can go on a weekday you're a little better off. *Pro Tip- The word is Wednesday is the slowest day of the week because it is the furthest from the weekend!
BUY DISCOUNTED TICKETS IN ADVANCE
Our favorite discounted Disney Ticket reseller is ARES TRAVEL, but note that they only sell multi-day park hopper tickets.
NAVIGATING THE DISNEYLAND HOLIDAY LINES
DOWNLOAD THE DISNEYLAND APP-
Check wait times,  skip ticket lines, check FASTPASS return times (and book them with the MaxPass), make Dining Reservations, view your PhotoPass photos & much more!
MAXIMIZE SINGLE RIDER LINES-
If you are traveling with adults or older children I highly suggest maximizing your time by splitting up and riding single. To use single rider at these attractions you'll need to ask a Cast Member for a single rider pass at the front of the line for the attraction, they will instruct you where to go. Single rider lines are available for the following attractions.
California Screamin'
Goofy's Sky School
Grizzly River Run
Indiana Jones Adventure
Radiator Springs Racers
Soarin' Around the World
Splash Mountain
*Pro Tip- Matterhorn Bobsleds also offers single rider passes (*not advertised but if you ask a cast member they will guide you where to go)
RIDER SWITCH PASSES-
for families visiting the Disneyland Resort with younger children who either do not meet the height requirement for certain attractions or are not brave enough to ride can utilize the Rider Switch Pass. Rider Switch passes are available on all major attractions in the parks that have a height requirement. In order to receive the Rider Switch pass you simply go to the attraction entrance with the child who is unable to ride and request a Rider Switch Pass. The Rider Switch Pass allows some of the family members to ride while one adult waits with the child who cannot ride. Then the adults "switch" turns and the adult who was waiting off takes the Rider Switch pass through the exit and rides the ride. *Pro Tip- the Rider Switch Pass allows the adult who was waiting off to ride the ride with 2 additional guests. This allows some of the party to ride TWICE!
MAKE DINING RESERVATIONS IN ADVANCE-
With peak crowds, dining can also become difficult. Save time and hassle by making any full-service dining reservations well in advance. (Check out my tips on Disneyland Dining Reservations Here!)
HEAD TO THE BIG RIDES DURING THE PARADES AND FIREWORKS-
If you're taking multiple trips to the park this year, hit the big rides like Space Mountain and Indiana Jones during the parade and fireworks.
*Pro Tip- We do both by splitting up. Team one saves our spot, while Team 2 heads to a major attraction (using MaxPass to book a FASTPASS or using Single Rider lines. Then the teams swap. This allows us to save a spot and enjoy an added attraction with less of a wait.
VISIT SANTA ON YOUR WAY OUT OF THE PARK-
We learned this one by coincidence last year when we stayed until closing time and just happened to walk past the Redwood Creek Trail. We were the ONLY ones; no line and we had Santa Claus all to ourselves. Just make sure you check your park guide for his hours so you don't miss him!
**MOST IMPORTANTLY EMBRACE THE CHAOS!
The Disneyland Holiday Season is magical but it requires you to set your expectations. This is not a trip where you are going to conquer a ton of rides. This is a trip to embrace the holiday magic and create memories that will last a lifetime!
WHERE TO STAY DURING THE DISNEYLAND HOLIDAY SEASON IN 2022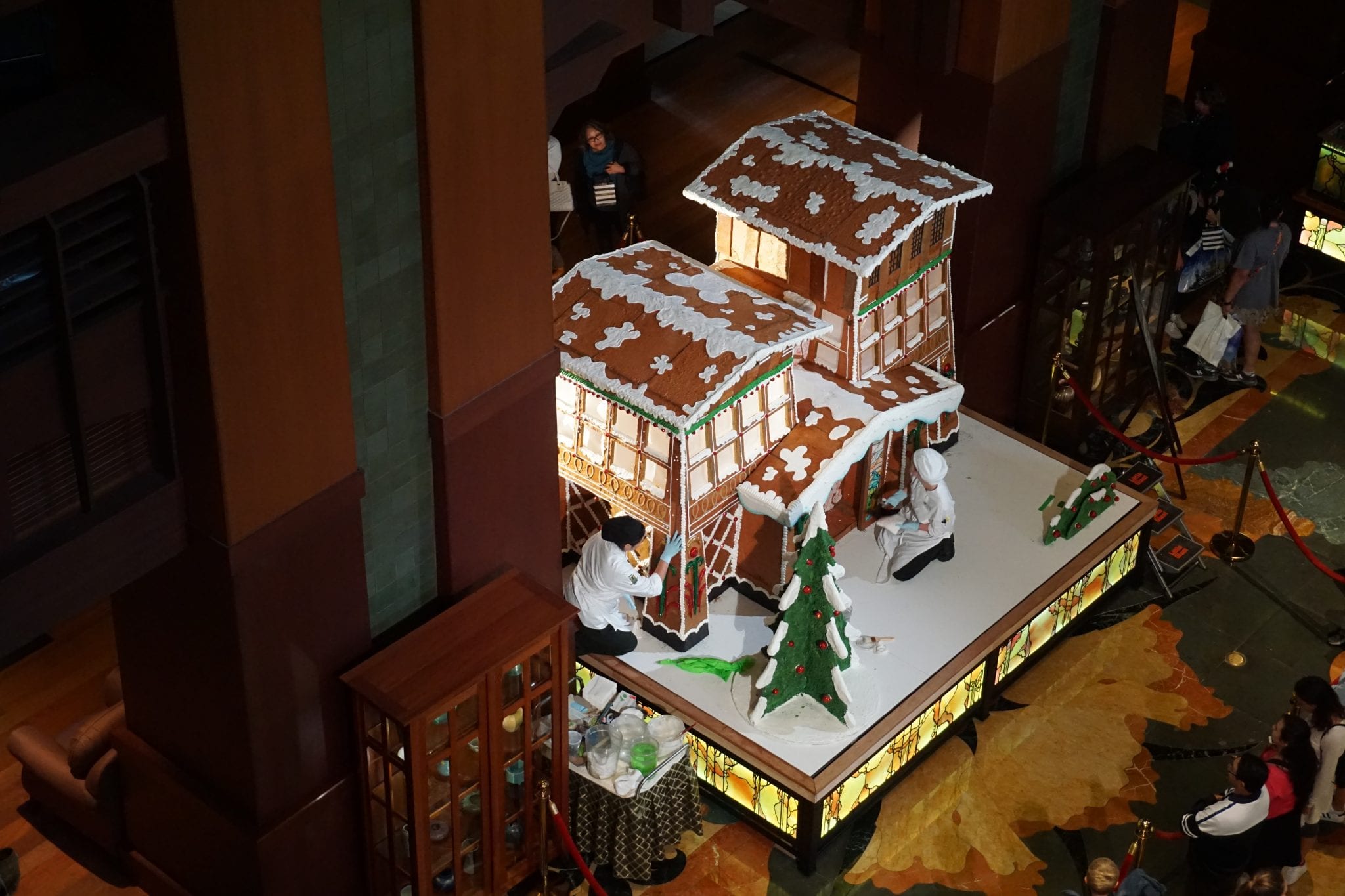 Your Disneyland holiday trip can be enhanced by an overnight stay at one of the Disney Resorts. Each resort is meant to make you feel right at home with their decorated lobbies and unique holiday trees. *Pro Tip- Make sure to stay on property as these hotels allow early bird entry into the parks, an amazing bonus on crowded days!
THE GRAND CALIFORNIAN-
 COMING OUT OF A ONE-YEAR RENOVATION A STAY AT THE GRAND CALIFORNIAN IS QUITE THE TREAT THIS HOLIDAY SEASON.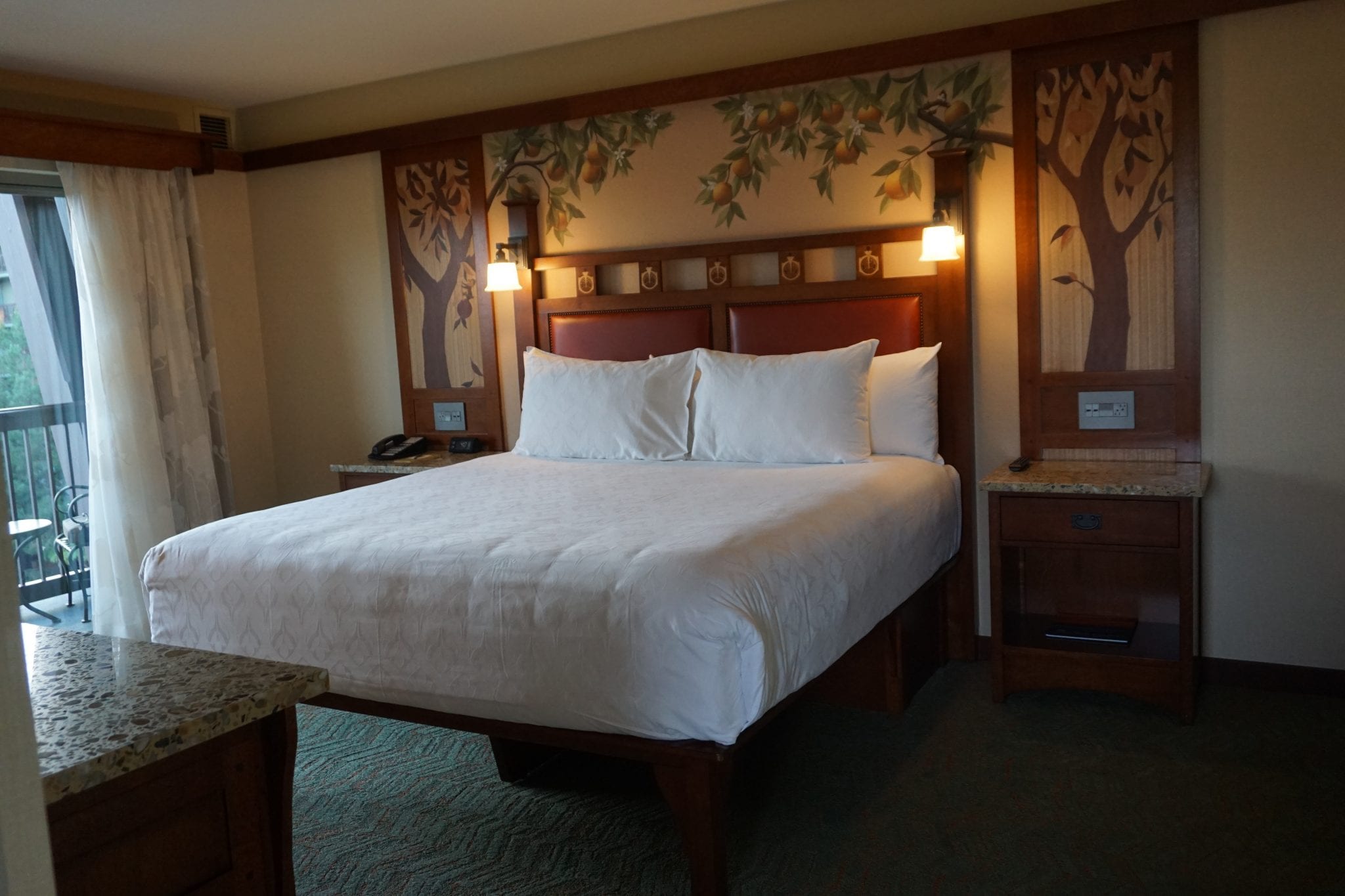 *Pro Tip- Make sure to take a walk around the hotel lobby, even if you aren't staying there. There's a 7-foot tall gingerbread replica of the hotel created with edible materials and made by a 25 person team! They also make a tasty spiked rum & apple cider too! 
THE DISNEYLAND HOTEL-
We love the pool and slide area, not to mention being able to grab a drink at Trader Sam's Enchanted Tiki Bar. Maybe he'll whip up some special drinks for Christmas this year!
DISNEY'S PARADISE PIER HOTEL-
This is the place to be if you're a fan of Mickey and Friends Character Breakfast. They also offer firework viewing for guests from their pool deck on certain nights, which is great for avoiding crowds.
*Pro Tip- Did you know you can visit Santa Claus at the Disneyland Resort Hotels too? See Saint Nick will make appearances at The Paradise Pier Hotel (find him in the Crystal Cove Foyer), The Grand Californian Hotel (making appearances in The Grand Hall), and at the Disneyland Hotel (find him in The Grand Ballroom). Contact the hotel for times.
If you need help planning and booking your magical Disneyland vacation, contact our friends at Tink's Magical Vacations. They are truly Disney Experts, and not only are their services FREE, but they will save you both time and money.
What is your Favorite Disneyland Holiday Attraction or Treat?? Tell me in the comments below. My favorites are riding Haunted House Holiday (I love Jack Skeleton) and Eating a Holiday Themed Caramel Apple.
Pin for Later- Ultimate Guide to Disneyland Holiday